12/27/2009 |
Publié par Nico
Vous avez sans doute dû vous rendre compte que le rythme de publication de Random Trax était devenu un peu plus lacunaire qu'à l'ordinaire. Faute à un nouveau travail 7 jours sur 7, 10h sur mes 15h d'éveil journalier, forcément ça ne laisse plus beaucoup de temps à l'écriture. Pas d'arrêt ou de suspension pour autant, il faudra juste être patient! Pour vous faire attendre le prochain vrai article, voilà un post de remixs comme vous les aimez, 9 pépites dénichées lors des 2 dernières semaines.
You should have noticed publication rythm of Random Trax became a little bit slower than usually. Indeed I've got a new job sucking 7 days of my week and 10 hours of my 15 daily eyes-opened hours, not a lot of time to write. Don't worry, no stop nor suspension for Random Trax, you'll just have to be a little more patient! To make you wait before the next real post, here is a remix post as you like it, with 9 nice music pieces found during the 2 last weeks.

Au sommaire /
In the programme
:
1) Birdy Nam Nam x Kn1ghT
2) Erol Alkan & Boys Noize x Chilly Gonzales
3) Mille x Edwin Van Cleef x Justin Faust
4) Monsieur Adi x Freak You
1) Birdy Nam Nam x Kn1ghT
On commence avec du créatif, de l'ingénieux, du mélodique, que dis-je, du grand, grand, grand remix. C'est un de mes remixs préférés de 2009. Voilà c'est dit, et c'est d'ailleurs plus facile à dire en fin d'année.
Kn1ghT
est jeune, alsacien et inventif, (presque) tous les atouts pour réussir. On espère fort que ce remix de
Birdy Nam Nam
n'est qu'un prélude à ce dont il est capable.
Birdy Nam Nam - The Parachute Ending (Kn1ghT Remix)
Let's begin with a creative, ingenious, melodic and great great remix. It's one of my best remixes of 2009. Yes, easier to say when the year is about to end.
Kn1ghT
is young and brillant, both important qualities to succeed. We hope this
Birdy Nam Nam
remix is just a preview of what he's capable of.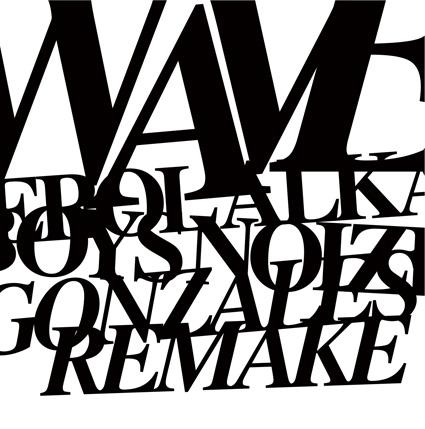 2) Erol Alkan & Boys Noize x Chilly Gonzales
Celui-ci vous l'avez tous déjà entendu au moins une fois (ou pas), mais je ne pouvais pas ne pas lui déclarer ma flamme publiquement. Ce Monsieur ne cessera-t-il donc jamais de nous impressionner? Son chapeau de magicien en costume noir et blanc est-il un puits de merveilles sans fond? Le prochain lapin qu'il sortira sera-t-il encore plus gros que le précédent? Tant de questions, une seule réponse :
Gonzales
, l'homme-artiste dans toute sa splendeur. Un tube bang bang signé
Erol Alkan & Boys Noize
, transformé en une performance pianistique irréelle, une envolée lyrique jouée à cent à l'heure... On comprend mieux pourquoi Chilly a joué les mains de Serge dans
Gainsbourg, vie héroïque
, film retraçant la vie de l'homme à la voix rauque, aux cigarettes et p'tites pépées, qui sortira le 20 janvier 2010.
Erol Alkan & Boys Noize - Waves (Chilly Gonzales Piano Remake)
This one, everybody heard it at least once (or not), but I couldn't omit to tell you I love it publicly. Will this Monsieur ever stop to impress us? Is his black & white magician's hat a deeper than ever fount of wonders? Will the next rabbit to get out of it be bigger than the previous one? So many questions, one answer :
Gonzales
, THE man-artist. A bang bang tune made by
Erol Alkan & Boys Noize
, turned into an irreal pianistic performance, an operatic take-off played at very high speed... We now easily understand why Chilly acted as Serge's hands in
Gainsbourg, vie héroïque
, a movie about the life of the man with the husky voice, cigarettes and pretty girlz which will be out on January the 20th.
3) Mille x Edwin Van Cleef x Justin Faust
Un, deux, trois, dix, vingt, cent puis Mille. Un calcul à l'image de la croissance surprenante de la scène suèdoise, qui n'en finit plus de grimper, toujours plus haut. Hey les amis, faites attention il fait encore plus froid au Pôle Nord! Il n'est peut-être pas le millième sur la liste, mais il s'appelle bien
Mille
. Et il y a un an, il accouchait d'une pin-up moitié-Mère-Noël moitié star du X prénommée
Crysteena
. Après avoir passé l'année bien au chaud sur un disque dur, la voilà enfin mise à nue sur un 12". Avec, en prime, 2 remixs de 2 acteurs expérimentés, pour qui le premier coup d'essai remonte à l'époque du 3615 HOTSEX et des vidéos pi-sex-lisées. Dépassant aisément la taille moyenne requise, leur talent combiné rivalise avec celui des plus grands. Je veux bien sûr parler de
Justin Faust
et
Edwin Van Cleef
, convertis respectivement en maquereau et maquereau-adjoint. La moustache du premier ne trompe pas, il n'y a qu'un mac pour porter une telle proéminence pileuse. Si le remix du jeune anglais EVC nous promène dans un quartier chinois version futuriste, celui de l'allemand commence comme une chanson de Michael Jackson puis se met à scintiller comme une boule à facettes dans une maison close... un beau bordel!
Merci à
Dödselectro
pour le remix d'EVC et aussi pour toute la bonne musique qu'ils diffusent.
Mille - Crysteena (Edwin Van Cleef Remix)
Mille - Crysteena (Justin Faust Remix)
One, two, three, ten, twenty, one hundred then Mille. A short list of growing numbers, just like the surprisingly growing Swedish scene, neverending climbing story, higher and higher. Hey friends, be careful, it's colder and colder if you keep climbing to the North Pole! Maybe he's not the thousandth on the list, but he's actually named
Mille
. And one year ago, he was giving life to a half-Mother-Christmas half-pornstar pin-up called
Crysteena
. After twelve months spent on a warm HDD, here it is, naked and lying on a 12". As a bonus, 2 remixes from 2 experimented actors, who have been playing music (and girls) since when the hypest website was 3615 HOTSEX and videos were pi-sex-lized. Easily overlengthing the requirments, their talent's not far from the biggest. Of course I'm dealing with
Justin Faust
and
Edwin Van Cleef
, converted into co-pimps. The moustache of the first can't lie, only a pimp can wear such a hairy thing. While the remix of the young English artists EVC brings us into a futuristic Chinatown, the one of the German evil's beginning like a MJ-song then shining like a disco ball into a brothel... What a mess!
Thanks to
Dödselectro
for the EVC remix and for all the good tunes they're spreading.
Bonux :
The Sound of Arrows - Into The Clouds (Mille Remix)
4) Monsieur Adi x Freak You
Quand j'étais petit, j'avais un compagnon de jeu assez spécial. Il aurait pu passer pour un humain si ce n'est qu'il avait des oreilles aussi grandes que ces pieds. Et un cerveau beaucoup plus gros que la normale. C'est bien simple, il m'a tout appris. Ce bonhomme s'appelait Adi. Je l'aimais bien, mais quand il a eu fini de m'apprendre tout ce qu'il savait, je l'ai perdu de vue, mon pote Adi. Je n'aurais jamais pensé le retrouver tout près de chez moi, de l'autre côté des montagnes, occupé à user ses synthés et rendre l'air italien plus respirable avec un son rafraichissant inspiré de ses ancêtres romains.
Monsieur Adi est un milanais sympa, pas un orgueilleux Jules César ou un méchant Brutus, plutôt un innocent Caïus Bonus. S'il le pouvait, il traverserait même bien les Alpes. Cet amoureux de la Gaule (gardez vos obscénités pour vous) est un musicien hors pair dans la fleur de l'âge, qui s'apprête à retourner 2010. Son premier EP sortira en début d'année, et pour l'occasion ce jeune étudiant en mode a organisé un contest, histoire de faire d'une pierre deux coups et dénicher la perle rare qui saura retravailler avec justesse sa compo. Les résultats ne sont pas encore publics mais vous, lecteurs assidus de Random Trax, pouvez-vous attendre à une bonne surprise.
Pour patienter, on écoute un des remixs officiels qui seront sur l'EP, ici celui de Freak You, Antibois de résidence et membre d'On The Fruit Records, un jeune label sympa du PACA qui héberge aussi le genevois Worship. Un très bon remix qui annonce du lourd pour la suite.

Monsieur Adi - We Are The Romans (Freak You Remix)
When I was young, I used to play with a special friend. He could have been a human if his ears weren't as tall as his feet. And a brain twice as big as a normal one. He taught me everything. This sweet dude was called Adi. I used to like him, but when he finished teaching me what he had to, I didn't see him as often as before, my friend Adi. I'd never have thought I'll find him again next to my home, just beyond the mountains, busy with using synths and making the Italian air fresher than it's now with a breathy sound inspired by his Roman ancestors.

Monsieur Adi is a nice Milan-based boy, not a contempt Jules Cesar or a bad Brutus, but an innocent Caius Bonus. If he could, he'd cross the Alps. This Gaul lover is a strong & talented young musician who is about to hit the top in 2010. His first EP will be out early next year, and this fashion student organized a remix contest, trying to find another talented artist who'll be able to make a nice work on his track. Results are not public yet but you, Random Trax readers, could expect a big & sweet surprise.
To wait, let's have a listen to one of the official remixes featured on the EP, here is the one of
Freak You
, French member of the French label On The Fruit Records, also hosting Geneva-based artist Worship. A very good remix making us wanting more.
Libellés :
Birdy Nam Nam
,
Boys Noize
,
Edwin Van Cleef
,
Erol Alkan
,
Freak You
,
Gonzales
,
Justin Faust
,
Kn1ghT
,
Mille
,
Monsieur Adi
|
1 commentaires
Blog Archive

Guest List
Libellés
65daysofstatic
(2)
80kidz
(1)
A-Trak
(1)
AaRON
(1)
Ace Out
(1)
Aeroplane
(3)
Air
(1)
Airship
(2)
Alex Gopher
(1)
Alex Metric
(2)
Alexfeel
(2)
Allure
(2)
Amiina
(2)
Amy MacDonald
(1)
Amy Meredith
(1)
Andreas Johnson
(1)
Animal Collective
(2)
Anne Dudley
(1)
Annie
(1)
Anoraak
(1)
Arcade Fire
(2)
Arms
(1)
Arno Cost
(1)
Au Revoir Simone
(1)
Auto
(1)
AutoKratz
(2)
Axwell
(1)
Bad Lieutenant
(1)
Bag Raiders
(1)
Bandit
(4)
Bat For Lashes
(1)
Beach House
(1)
Beaufort
(1)
Beni
(1)
Bestrack
(1)
Beyond Deep
(1)
Birdy Nam Nam
(2)
Black Kids
(1)
Bloc Party
(1)
Blue Man Group
(1)
Bombay Bicycle Club
(1)
Bonobo
(1)
Boomkat
(1)
Boys Noize
(7)
Breakbot
(1)
Brodinski
(1)
Broken Bells
(1)
Bugged Out
(1)
Cadillac
(3)
Caesars
(1)
Calvin Harris
(5)
Caribou
(1)
Cassius
(2)
Cazals
(1)
Cécile
(1)
Chairlift
(1)
Chilly Gonzales
(1)
Choo Choo
(1)
Chromeo
(1)
Claudio Gizzi
(1)
Clock Opera
(1)
Cloud Cult
(1)
Cold War Kids
(1)
Coldplay
(1)
College
(3)
Cosmonaut Grechko
(1)
Crookers
(1)
Crystal Castles
(2)
Cullen
(1)
Cut Copy
(2)
cybe
(1)
D/A/D
(1)
Dada Life
(1)
Daft Punk
(5)
Dan Black
(1)
Danger
(2)
Danton Eeprom
(1)
DATA
(3)
David Lynch
(1)
Daze
(1)
Deerhunter
(1)
Delorean
(1)
Delphic
(5)
Designer Drugs
(1)
Diamond Cut
(1)
Digitalfoxglove
(1)
Digitalism
(1)
Dimes
(3)
Dirty South
(1)
DJ Mehdi
(1)
Does It Offend You Yeah?
(2)
Dutch Uncles
(1)
Earl Grey
(1)
Eat More Cake
(1)
Edwin Van Cleef
(1)
Efterklang
(1)
Egyptian Hip Hop
(1)
Ellie Goulding
(4)
Empire Of The Sun
(1)
Eric Prydz
(1)
Erol Alkan
(2)
Euphorie
(1)
Evan Voytas
(1)
Everything Everything
(1)
Expatriate
(1)
Explosions in the Sky
(1)
Fake Blood
(1)
Fanfarlo
(1)
Fare Soldi
(1)
Feadz
(1)
Fear of Tigers
(2)
Fenech-Soler
(1)
Fever Ray
(1)
Fischerspooner
(1)
Flashworx
(9)
Foals
(5)
Four Tet
(1)
Frankmusik
(1)
Freak You
(3)
Fred Falke
(4)
French Horn Rebellion
(1)
Friendly Fires
(1)
Fuck Buttons
(1)
Futurecop
(3)
Futureflashs
(1)
Ghinzu
(2)
Gigamesh
(1)
Give Me A Kiss
(1)
Glastonbury
(1)
Gold Panda
(1)
Gonzales
(2)
Gorillaz
(2)
GOS
(1)
Gossip
(2)
Groove Armada
(1)
Gui Boratto
(1)
Gunstar
(1)
Hanni El Khatib
(1)
Harlem Shakes
(1)
Heads We Dance
(1)
Holy Ghost
(1)
Hot Chip
(2)
Housse de Racket
(1)
Hurts
(1)
I'm From Barcelona
(1)
IKKI
(1)
Interpol
(1)
jj
(1)
Jo Rose
(1)
Jonsi
(2)
José Gonzalez
(1)
Joseph
(1)
Jupiter
(1)
Just Jack
(3)
Justice
(2)
Justin Faust
(2)
Kaiser Chiefs
(1)
Kanye West
(2)
Kap Bambino
(2)
Kavinsky
(2)
KeepReal
(1)
Kele
(1)
Kid Cudi
(1)
Kids At The Bar
(3)
King Charles
(1)
Kings of Leon
(2)
Kirstenana
(1)
Kitsuné
(2)
Klaxons
(2)
Kn1ghT
(1)
Kraftwerk
(1)
La Roux
(1)
Ladyhawke
(2)
Ladytron
(1)
Land of Talk
(1)
Lapse
(1)
Late of the Pier
(1)
Lazercat
(1)
Lazy Flow
(1)
LBCK
(1)
LCD Soundsystem
(2)
Le Corps Mince de Françoise
(2)
Les Petits Pilous
(1)
Liars
(1)
Lifelike
(2)
Lily Allen
(1)
Little Boots
(1)
Loney Dear
(1)
Love and Disaster
(1)
M.Ward
(1)
M83
(1)
Maethelvin
(1)
Main Square Festival
(5)
ManandMan
(1)
Mando Diao
(1)
Marina and the Diamonds
(2)
Mashed Paper Klub
(1)
Maxime Dangles
(1)
Melodium
(1)
Memory Tapes
(1)
Metric
(1)
MGMT
(2)
Miami Horror
(2)
Midnight Club
(1)
Midnight Juggernaughts
(1)
Midnight Juggernauts
(1)
Miike Snow
(3)
Mika
(1)
Mille
(1)
Mindwalk
(1)
Minitel Rose
(5)
Miss Wonder
(1)
Mito
(1)
Moby
(2)
Mogwai
(2)
Mondkopf
(2)
Monegros Festival
(1)
Monsieur Adi
(6)
Multipac
(1)
Mumford and Sons
(1)
Muse
(1)
My Awesome Mixtape
(1)
My Heart Belongs To Cecilia Winter
(1)
Mylo
(1)
naive new beaters
(1)
Neo Tokyo
(1)
NightWaves
(2)
Nil Hartman
(1)
No1Else
(1)
Norman Doray
(1)
Of Montreal
(2)
Official Secrets Act
(1)
OK Go
(1)
One Republic
(1)
Où Est Le Swimming Pool
(1)
Overthrill
(1)
Para One
(1)
Passion Pit
(4)
Paul
(2)
Pendulum
(1)
Pete Herrs
(2)
Peter Bjorn and John
(1)
Phenomenal Handclap Band
(1)
Phillip Martell
(1)
Phoenix
(7)
Placebo
(1)
Plasticines
(2)
PNAU
(3)
Poka
(1)
POND
(1)
PV Nova
(1)
PVT
(1)
R3set
(1)
Radiohead
(1)
RAFALE
(1)
Ratatat
(1)
Redial
(3)
Redlight
(2)
Reni Lane
(1)
Romano Musumarra
(1)
Rondo Veneziano
(1)
Royksopp
(4)
Russ Chimes
(4)
Sarah W_Papsun
(1)
Satellite Stories
(1)
SayCet
(1)
sayem
(1)
School of Seven Bells
(2)
Sebastian Ingrosso
(1)
Shout Out Louds
(2)
Shuttle
(1)
Sigur Ros
(1)
Siriusmo
(1)
Soulwax
(1)
St. Vincent
(1)
Stardust
(1)
Steed Lord
(1)
Stevans
(1)
Steve Angello
(1)
Sufjan Stevens
(2)
Supermode
(1)
Surkin
(1)
Swedish House Mafia
(1)
Take Me Home
(1)
Tame Impala
(1)
Team Ghost
(1)
Teddybears Sthlm
(1)
Teki Latex
(1)
The Amplifetes
(3)
The Bewitched Hands On The Top Of Our Head
(2)
The Big Pink
(1)
The Bloody Beetroots
(2)
The Cardigans
(1)
The Chemical Brothers
(1)
The Courteeners
(1)
The Dirty Tees
(1)
The Drums
(1)
The Freelance Whales
(1)
The Killers
(1)
The Kissaway Trail
(1)
The Kiwi's
(1)
The Knife
(1)
The Mummers
(1)
The Noizy Kids
(1)
The Party Circuit
(1)
The Phantom's Revenge
(3)
The Rapture
(1)
The Raveonettes
(1)
The Soft Pack
(1)
The Sound of Arrows
(1)
The Sounds
(1)
The Tallest Man On Earth
(1)
The Temper Trap
(2)
The Ting Tings
(1)
The Twelves
(4)
The Verve
(1)
Thunderheist
(1)
Tits and Clits
(1)
Toomy Disco
(1)
Toxic Avenger
(1)
Tr2n
(1)
Two Door Cinema Club
(3)
Underworld
(1)
Valérie
(3)
Vampire Weekend
(6)
VIKING
(1)
Villains
(1)
Villeneuve
(1)
Vincent Moon
(1)
Visitor
(1)
Vitalic
(1)
Walter Sobcek
(1)
Washed Out
(1)
Wave Machines
(1)
We Are Electro Kids
(1)
We Are Tokyo
(1)
We Have Band
(1)
We Love Machines
(1)
We Plants Are Happy Plants
(1)
Who Made Who
(1)
Worship
(2)
Yann Tiersen
(1)
Yeah Yeah Yeahs
(1)
Yeasayer
(2)
You Say Party
(1)
YounGunz
(1)
Yuksek
(3)