11/16/2009 |
Publié par Nico
Je n'ai pas trouvé de meilleur moyen que ce post pour parler de tous les remixs que régulièrement je garde dans un coin en me disant "tiens il est bon ce son, il faudra que j'en parle sur mon blog". Alors voilà, on repart dans les jeux de mots douteux et autres tournures de phrases étranges pour, je l'espère, vous faire passer un agréable moment en écoutant ces 7 "variations".
I haven't found anything better to introduce you to those excellent remixes I keep in a corner of my desktop thinking 'that sound is pretty good, I might deal with it on my blog'. So here they are, with a few words and some strange sentences, and I hope you'll spend a good time listening to these seven 'variations'.
1) Yeah Yeah Yeahs x A-Trak
Vous avez sans doute vu
le clip de

Heads Will Roll
, où la charismatique mais hystérique chanteuse Karen O et ses collègues se font trucider par un loup-garou en smoking qui se prend pour MJ sur le dancefloor. Toucher à l'excellence de la meilleure chanson du meilleur album des
Yeah Yeah Yeahs
, un sacré challenge. Que le DJ québécois
A-Trak
, résidant à New York, plus jeune vainqueur des Championnats du Monde de DMC à l'age de 15 ans et accro du crossfader en live, a relevé avec brio.
You may have seen
the video clip for

Heads Will Roll
, where the charismatic but a bit hysteric Karen O and her mates are killed and sliced by a werewolf wearing a smoking and thinking he's MJ on the dancefloor. Trying to remix the best song from
Yeah Yeah Yeahs
' best album, what a big challenge! Montreal-born DJ
A-Trak
, living in NY, youngest winner of the DMC World DJ Championships at the age of 15 and addicted to the crossfader while performing live, succeeded in this difficult task.
Yeah Yeah Yeahs - Heads Will Roll (A-Trak Remix)
2) NightWaves x We Plants Are Happy Plants
NightWaves
, c'est le projet musical de Kyle Petersen et Josh Legg, les deux anges californiens qui tirent les rênes du blog
Binary
du côté de Los Angeles. Leur titre
Fascination
, à la base c'est un synthé tintant et un type se languissant de l'époque où il était seul avec sa nana. Il y a eu quelques remixs, tous dans le même genre musical. Et puis il y a le remix de
We Plants Are Happy Plants
ou WPAHP, un jeune hongrois dont la musique est aussi à base de synthé tintant. On pourrait s'attendre à un remix exotique façon boum boum, et puis on lance le morceau et on rencontre ces violons ultra-sensuels qui transforment le morceau original en une pépite que je qualifierais d'éléctro-langoureuse.
NightWaves
, it's the musical project of Kyle Petersen and Josh Legg, two Californian boys writing on the
Binary
blog in LA. Their song
Fascination
, it's a smooth synth sound and a man regretting the time when he was alone with his girlfriend. Some remixes of this song have been released, each with the same kind of synth sound. Then this young Hungarian boy named
We Plants Are Happy Plants
or WPAHP came in, also with this kind of synth sound. But rather than making an 'exotic' remix based on too much drums, we meet an ultra-sensual violin sound which is turning the original piece into a massive jewel of languorous electronic music.
NightWaves - Fascination (We Plants Are Happy Plants Remix)
3) Metric x 80kidz
J'avoue que les
80kidz
n'apportent pas grand chose à la chanson de
Metric
, à part quelques electro-trucs, mais on ne va pas leur en vouloir pour ça, à ces 3 japonais qui ont sorti le tube
Miss Mars
sur Kitsuné. On écoute ce remix jusqu'au bout, juste parce qu'il est bon d'entendre la voix d'Emily Haines de temps en temps.
I have to admit the
80kidz
aren't bringing so much news to this
Metric
tune, except some tiny electro-tricks, but we can't blame these three Japanese people, their
Miss Mars
song is soooo good. We keep playing the sond till the end, just because it's good to hear Emily Haines' voice sometimes.
Metric - Help I'm Alive (80kidz Remix)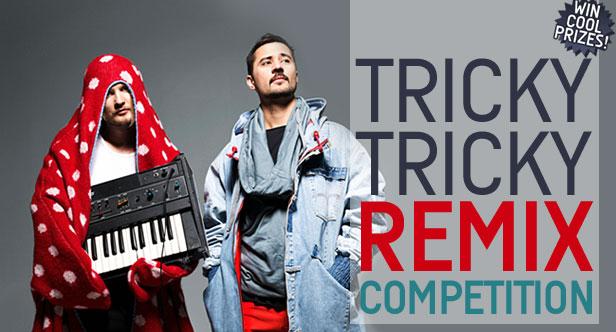 4) Röyksopp x Beyond Deep
Il se trouve que je ne sais pas trop quoi dire sur ce remix qui est une des nombreuses pépites dont le contest organisé par
Röyksopp
a accouché, à part qu'il est très propre, très sympa à écouter, propice à une réflexion intense devant la fenêtre par un jour pluvieux. Le dernier album des norvégiens,
Junior
, est un album très complet qui se laisse facilement apprivoiser dès la première écoute. Quant à
Beyond Deep
, c'est un jeune hongrois (tiens donc) qui qualifie ses prods de musique "émotronique". Ça promet.
Hum, I don't know what to say about this remix which is one of the numerous lucky find of the contest set up by
Röyksopp
, except it's very clean and pro, very fun for our ears and helpful to deep side-windowed thougts on a rainy day. According to me, the last album of these Norwegians called
Junior
is very complete and easy to tame at first sight.
Beyond Deep
, it's a young Hungarian boy (humhum) which is composing 'emotronic' music. Whoa.
Röyksopp - Tricky Tricky (Beyond Deep Remix)
5) Röyksopp x Maxime Dangles
Ce remix-ci, il envoie du lourd, l'instru est génialement pensée. Et à ma grande surprise
Maxime Dangles
est un jeune français habitant Valence et à 24 ans l'une des récentes révélations du label allemand Kompact, numéro 1 de la techno minimale. Ce jeune homme à de l'avenir.
This remix is heavy, the instrumental part is awesome. I was surprised when I learnt
Maxime Dangles
was a young French aged 24 and one of the recent revelation of the Koln-based label Kompact, number one when it's time to deal with minimal techno. This young man might have a bright future.
Röyksopp - This Must Be It (Maxime Dangles Remix)
6) Fenech-Soler x The Phantom's Revenge
Fenech-Soler
, c'est un peu la nouvelle sensation outre-Manche, un groupe qui joue
par terre emmêlé dans ses fils
de guitare ce n'est pas si fréquent après tout, non? Et puis leur single
Lies
, c'est de la bombe. Remixé par un superhéros nimois, ça devient de la bombe provençale qui sent l'aïoli.
The Phantom's Revenge
, c'est le projet solo de Tony, un grand blond qui aura 26 ans à Noël, qui habite toujours chez ses parents et qui à la phobie des araignées. Mais passons les détails, Tony est le Jedi de la disco music, que dis-je, le Luke Skywalker du dancefloor, qui n'hésite pas à enfiler les pattes d'eph et sortir son sabre laser clignotant pour faire sa fête à Dark Vador. Que la Force soit avec toi, Phantom.
Fenech-Soler
, it's kind of the new sensation in England, a band playing
on the floor rolled up into their guitar wires
that's not so frequent, isn't it? And their single
Lies
rocks, I swear. Remixed by a French superhero, it double rocks.
The Phantom's Revenge
, it's the solo project of a tall blond haired guy named Tony, which is about to be 26 years old at Christmas but still living at his dad's house and afraid by spiders. But hey, let's forget this details, Tony is the Jedi of disco music, well, he's the Luke Skywalker of the dancefloor, never hesitating to put on his flared trousers and to take his flickering laser sword to party with Darth Vader. May the Force be with you, Phantom.
Fenech-Soler - Lies (The Phantom's Revenge Remix)
7) Frankmusik x Russ Chimes
Le dernier pour la route, un condensé d'éléctro-pop à l'anglaise façon
Frankmusik
remixé par
Russ Chimes
, très bon une fois de plus.
The last but not the least, an electro-pop song made by
Frankmusik
and remixed by
Russ Chimes
, one more time a very good job.
Frankmusik - Confusion Girl (Russ Chimes Remix)
Libellés :
80kidz
,
A-Trak
,
Beyond Deep
,
Fenech-Soler
,
Frankmusik
,
Maxime Dangles
,
Metric
,
NightWaves
,
Royksopp
,
Russ Chimes
,
The Phantom's Revenge
,
We Plants Are Happy Plants
,
Yeah Yeah Yeahs
|
0 commentaires
Blog Archive

Guest List
Libellés
65daysofstatic
(2)
80kidz
(1)
A-Trak
(1)
AaRON
(1)
Ace Out
(1)
Aeroplane
(3)
Air
(1)
Airship
(2)
Alex Gopher
(1)
Alex Metric
(2)
Alexfeel
(2)
Allure
(2)
Amiina
(2)
Amy MacDonald
(1)
Amy Meredith
(1)
Andreas Johnson
(1)
Animal Collective
(2)
Anne Dudley
(1)
Annie
(1)
Anoraak
(1)
Arcade Fire
(2)
Arms
(1)
Arno Cost
(1)
Au Revoir Simone
(1)
Auto
(1)
AutoKratz
(2)
Axwell
(1)
Bad Lieutenant
(1)
Bag Raiders
(1)
Bandit
(4)
Bat For Lashes
(1)
Beach House
(1)
Beaufort
(1)
Beni
(1)
Bestrack
(1)
Beyond Deep
(1)
Birdy Nam Nam
(2)
Black Kids
(1)
Bloc Party
(1)
Blue Man Group
(1)
Bombay Bicycle Club
(1)
Bonobo
(1)
Boomkat
(1)
Boys Noize
(7)
Breakbot
(1)
Brodinski
(1)
Broken Bells
(1)
Bugged Out
(1)
Cadillac
(3)
Caesars
(1)
Calvin Harris
(5)
Caribou
(1)
Cassius
(2)
Cazals
(1)
Cécile
(1)
Chairlift
(1)
Chilly Gonzales
(1)
Choo Choo
(1)
Chromeo
(1)
Claudio Gizzi
(1)
Clock Opera
(1)
Cloud Cult
(1)
Cold War Kids
(1)
Coldplay
(1)
College
(3)
Cosmonaut Grechko
(1)
Crookers
(1)
Crystal Castles
(2)
Cullen
(1)
Cut Copy
(2)
cybe
(1)
D/A/D
(1)
Dada Life
(1)
Daft Punk
(5)
Dan Black
(1)
Danger
(2)
Danton Eeprom
(1)
DATA
(3)
David Lynch
(1)
Daze
(1)
Deerhunter
(1)
Delorean
(1)
Delphic
(5)
Designer Drugs
(1)
Diamond Cut
(1)
Digitalfoxglove
(1)
Digitalism
(1)
Dimes
(3)
Dirty South
(1)
DJ Mehdi
(1)
Does It Offend You Yeah?
(2)
Dutch Uncles
(1)
Earl Grey
(1)
Eat More Cake
(1)
Edwin Van Cleef
(1)
Efterklang
(1)
Egyptian Hip Hop
(1)
Ellie Goulding
(4)
Empire Of The Sun
(1)
Eric Prydz
(1)
Erol Alkan
(2)
Euphorie
(1)
Evan Voytas
(1)
Everything Everything
(1)
Expatriate
(1)
Explosions in the Sky
(1)
Fake Blood
(1)
Fanfarlo
(1)
Fare Soldi
(1)
Feadz
(1)
Fear of Tigers
(2)
Fenech-Soler
(1)
Fever Ray
(1)
Fischerspooner
(1)
Flashworx
(9)
Foals
(5)
Four Tet
(1)
Frankmusik
(1)
Freak You
(3)
Fred Falke
(4)
French Horn Rebellion
(1)
Friendly Fires
(1)
Fuck Buttons
(1)
Futurecop
(3)
Futureflashs
(1)
Ghinzu
(2)
Gigamesh
(1)
Give Me A Kiss
(1)
Glastonbury
(1)
Gold Panda
(1)
Gonzales
(2)
Gorillaz
(2)
GOS
(1)
Gossip
(2)
Groove Armada
(1)
Gui Boratto
(1)
Gunstar
(1)
Hanni El Khatib
(1)
Harlem Shakes
(1)
Heads We Dance
(1)
Holy Ghost
(1)
Hot Chip
(2)
Housse de Racket
(1)
Hurts
(1)
I'm From Barcelona
(1)
IKKI
(1)
Interpol
(1)
jj
(1)
Jo Rose
(1)
Jonsi
(2)
José Gonzalez
(1)
Joseph
(1)
Jupiter
(1)
Just Jack
(3)
Justice
(2)
Justin Faust
(2)
Kaiser Chiefs
(1)
Kanye West
(2)
Kap Bambino
(2)
Kavinsky
(2)
KeepReal
(1)
Kele
(1)
Kid Cudi
(1)
Kids At The Bar
(3)
King Charles
(1)
Kings of Leon
(2)
Kirstenana
(1)
Kitsuné
(2)
Klaxons
(2)
Kn1ghT
(1)
Kraftwerk
(1)
La Roux
(1)
Ladyhawke
(2)
Ladytron
(1)
Land of Talk
(1)
Lapse
(1)
Late of the Pier
(1)
Lazercat
(1)
Lazy Flow
(1)
LBCK
(1)
LCD Soundsystem
(2)
Le Corps Mince de Françoise
(2)
Les Petits Pilous
(1)
Liars
(1)
Lifelike
(2)
Lily Allen
(1)
Little Boots
(1)
Loney Dear
(1)
Love and Disaster
(1)
M.Ward
(1)
M83
(1)
Maethelvin
(1)
Main Square Festival
(5)
ManandMan
(1)
Mando Diao
(1)
Marina and the Diamonds
(2)
Mashed Paper Klub
(1)
Maxime Dangles
(1)
Melodium
(1)
Memory Tapes
(1)
Metric
(1)
MGMT
(2)
Miami Horror
(2)
Midnight Club
(1)
Midnight Juggernaughts
(1)
Midnight Juggernauts
(1)
Miike Snow
(3)
Mika
(1)
Mille
(1)
Mindwalk
(1)
Minitel Rose
(5)
Miss Wonder
(1)
Mito
(1)
Moby
(2)
Mogwai
(2)
Mondkopf
(2)
Monegros Festival
(1)
Monsieur Adi
(6)
Multipac
(1)
Mumford and Sons
(1)
Muse
(1)
My Awesome Mixtape
(1)
My Heart Belongs To Cecilia Winter
(1)
Mylo
(1)
naive new beaters
(1)
Neo Tokyo
(1)
NightWaves
(2)
Nil Hartman
(1)
No1Else
(1)
Norman Doray
(1)
Of Montreal
(2)
Official Secrets Act
(1)
OK Go
(1)
One Republic
(1)
Où Est Le Swimming Pool
(1)
Overthrill
(1)
Para One
(1)
Passion Pit
(4)
Paul
(2)
Pendulum
(1)
Pete Herrs
(2)
Peter Bjorn and John
(1)
Phenomenal Handclap Band
(1)
Phillip Martell
(1)
Phoenix
(7)
Placebo
(1)
Plasticines
(2)
PNAU
(3)
Poka
(1)
POND
(1)
PV Nova
(1)
PVT
(1)
R3set
(1)
Radiohead
(1)
RAFALE
(1)
Ratatat
(1)
Redial
(3)
Redlight
(2)
Reni Lane
(1)
Romano Musumarra
(1)
Rondo Veneziano
(1)
Royksopp
(4)
Russ Chimes
(4)
Sarah W_Papsun
(1)
Satellite Stories
(1)
SayCet
(1)
sayem
(1)
School of Seven Bells
(2)
Sebastian Ingrosso
(1)
Shout Out Louds
(2)
Shuttle
(1)
Sigur Ros
(1)
Siriusmo
(1)
Soulwax
(1)
St. Vincent
(1)
Stardust
(1)
Steed Lord
(1)
Stevans
(1)
Steve Angello
(1)
Sufjan Stevens
(2)
Supermode
(1)
Surkin
(1)
Swedish House Mafia
(1)
Take Me Home
(1)
Tame Impala
(1)
Team Ghost
(1)
Teddybears Sthlm
(1)
Teki Latex
(1)
The Amplifetes
(3)
The Bewitched Hands On The Top Of Our Head
(2)
The Big Pink
(1)
The Bloody Beetroots
(2)
The Cardigans
(1)
The Chemical Brothers
(1)
The Courteeners
(1)
The Dirty Tees
(1)
The Drums
(1)
The Freelance Whales
(1)
The Killers
(1)
The Kissaway Trail
(1)
The Kiwi's
(1)
The Knife
(1)
The Mummers
(1)
The Noizy Kids
(1)
The Party Circuit
(1)
The Phantom's Revenge
(3)
The Rapture
(1)
The Raveonettes
(1)
The Soft Pack
(1)
The Sound of Arrows
(1)
The Sounds
(1)
The Tallest Man On Earth
(1)
The Temper Trap
(2)
The Ting Tings
(1)
The Twelves
(4)
The Verve
(1)
Thunderheist
(1)
Tits and Clits
(1)
Toomy Disco
(1)
Toxic Avenger
(1)
Tr2n
(1)
Two Door Cinema Club
(3)
Underworld
(1)
Valérie
(3)
Vampire Weekend
(6)
VIKING
(1)
Villains
(1)
Villeneuve
(1)
Vincent Moon
(1)
Visitor
(1)
Vitalic
(1)
Walter Sobcek
(1)
Washed Out
(1)
Wave Machines
(1)
We Are Electro Kids
(1)
We Are Tokyo
(1)
We Have Band
(1)
We Love Machines
(1)
We Plants Are Happy Plants
(1)
Who Made Who
(1)
Worship
(2)
Yann Tiersen
(1)
Yeah Yeah Yeahs
(1)
Yeasayer
(2)
You Say Party
(1)
YounGunz
(1)
Yuksek
(3)